Discover more from The Will Leitch Newsletter
Will Leitch's weekly free newsletter with an original essay, and links to everything he writes.
Volume 1, Issue 64: Lake of Fire
I have a bobblehead wall. I am not proud of this, but I cannot lie to you any more than I can lie to myself: I am a 41-year-old man with a bobblehead wall.

The wall, and the collection it holds, came about as an accident. I never really cared much about bobbleheads, and certainly never had any as a kid. It's forgotten now, but bobbleheads were considered sort of lame when I was a kid, hacky, dopey toys that your grandparents might have played with, sort of the sports equivalent of a hula hoop or a pet rock. When I was running Deadspin, Icehouse beer randomly sent me a bobblehead with my own head on it, based on a photo they'd found online of me. (This photo, in fact.) When I opened up the box, I only saw the Icehouse logo and, assuming it was just promotional crap (of which I received a ton at the time), just tossed it aside. Hours later, I noticed it on the floor, missing an arm, and realized it was supposed to be of me. That's how little I cared about bobbleheads a decade ago: I immediately assumed they were junk without even really looking at them.

I'm not sure why that changed. I think I told that story a few times, and people heard it as "Will likes bobbleheads" and next thing you knew, whenever somebody got a free bobblehead at a game they didn't want, they gave it to me. Then my Dad started hanging onto all the bobbleheads he got at Cardinals games and giving them to me, and then I started hanging onto them, and then next thing you know, I've moved to a house in Georgia where I can have a bobblehead wall. Life's rich pageant, I tell you.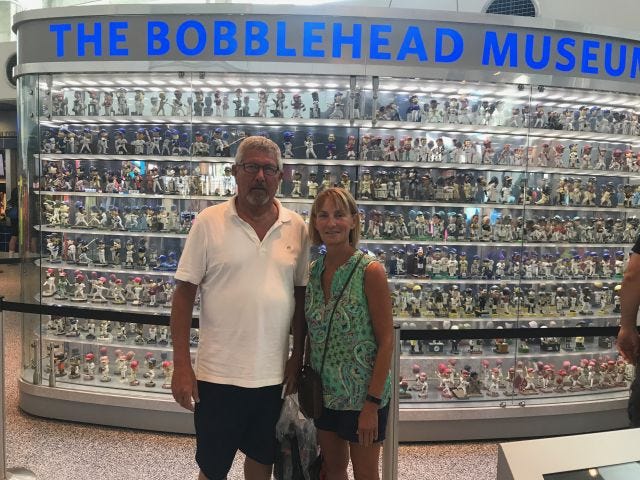 (That is not the bobblehead wall. That is the National Bobblehead Museum at Marlins Park in Miami, unquestionably the best part of that ballpark.)

I've, predictably, gotten obsessed with my bobblehead wall since then. Any bobblehead wall worth having is worth doing right. It's mostly Cardinals and other teams I cheer for, as you might expect. I've found that I don't much care about bobbleheads of players who aren't on my teams, save for the stray historical figure here or there. But if there's one I want, I will comb every inch of this planet for it. Lorne Michaels once said the reason he isn't on Twitter is because "I drink." This is how I've become with eBay: I am not allowed to search for bobbleheads on eBay after drinking, because I will buy them. I made my transition into an elderly Midwestern woman so gradually that I barely noticed.

Anyway, let's get this over with. Here's the wall: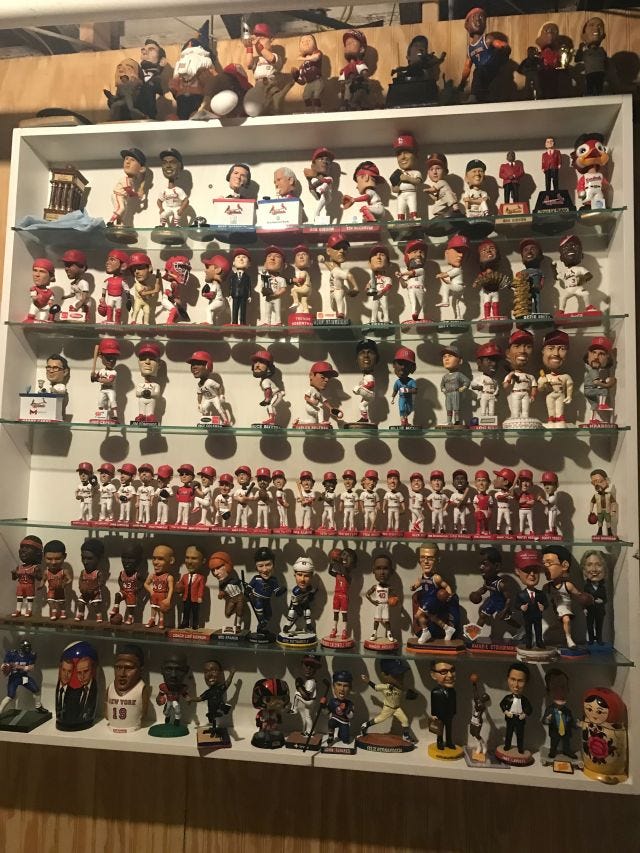 And here is your index:
Row One: Barack Obama, Rick Ankiel, Abraham Lincoln, University of Illinois Troll, 1986 Bagelfest Doll, David Eckstein, Dizzy Dean, Kurt Warner, Yadier Molina, Gregg Jefferies, Hank Aaron, Carmelo Anthony, Dennis Rodman, Dennis Eckersley, Barack Obama (in Brooklyn Cyclones jersey)

Row Two: Stan Musial, Lou Brock, Mike Shannon, Jack Buck, Bob Gibson, Tim McCarver, Whitey Herzog, Eddie Gaedel, Red Schoendienst, Bob Gibson, Tony La Russa, Old Timey Fredbird

Row Three: Mike Matheny, Jose Oquendo, Yadier Molina, Matt Carpenter, Yadier Molina, Adam Wainwright, Will Leitch (a gift for my 40th birthday), Michael Wacha, Trevor Rosenthal, Adam Wainwright, David Freese, Lance Berkman, Matt Holliday, Yadier Molina, Ozzie Smith, Edgar Renteria

Row Four: Harry Caray, Orlando Cepeda, Jim Edmonds, Vince Coleman, Bruce Sutter, Carlos Beltran, Bob Gibson, Willie McGee, Rogers Hornsby, Lou Brock, Albert Pujols, Mark McGwire, Al Hrabosky

Row Five: Randy Flores, Jim Edmonds, Chris Carpenter, Aaron Miles, Brad Thompson, Tony La Russa, Jason Isringhausen, David Eckstein, Chris Duncan, Jeff Suppan, John Tudor, Jack Clark, Tito Landrum, Ken Dayley, Tom Herr, Todd Worrell, Ricky Horton, Red Schoendienst, Lou Brock, Tom Pagnozzi, Bobby Tolan, Whitey Herzog, Scott Terry

Row Six: Dee Brown, Deron Williams, Luther Head, Roger Powell, James Augustine, Lou Henson, Red Grange, Vladimir Tarasenko, Alex Pietrangelo, Kentavious Caldwell-Pope, Shandon Anderson, Kristaps Porzingis, Amar'e Stoudemire, Donald Trump, Jeremy Lin, Hillary Clinton

Row Seven: Tomy Romo, Russian Nesting Doll Featuring Vladimir Putin, Willis Reed, Terrell Davis, Ron Hunter, Poe Dameron, Julio Teheran, John Tavares, Felix Hernandez, Generic Man Promoting Tourism in Columbus Georgia, Charles Barkley, Andy Landers, Saul Goodman, Russian Nesting Doll My Great Aunt Gave Me When I Was a Kid
No, I don't have a problem. You have a problem.

Here is a numerical breakdown of all the things I wrote this week, in order of what I believe to be their quality. (This is an attempt to have an objective look at the value of my work in a way that I suspect will be difficult to sustain.)

1. O.J. Simpson in the Age of Social Media? Look Out, Sports On Earth. Seriously, I could talk about O.J. for five hours every day and never get tired of it. Who's up for a five-hour daily podcast on O.J.? Anybody?

2. Review: "Dunkirk," Paste. This movie is great great great, go see it on something big.

3. The Orioles Baffled Analysts for Half a Decade. Now What? Sports On Earth. Shoutout to my friend Tim Kelly, who had to read my eulogy to his favorite team even though that team has the same record as my Cardinals.

4. Bartolo's Last Stand, Sports On Earth. Hang on, man: I need more major leaguers older than me.

5. Review: "Valerian and the City of a Thousand Planets," Paste. Stay for the Rhianna.

6. The Fourth Annual College Football Road Trip, Sports On Earth. Someday some crazy person is actually gonna do this.

7. Winning Seven or Losing Seven, Whichever Works, Sports On Earth. Shoutout to the Joe Sheehan Rule. (One of many.)

8. Playoff Odds Report: July, Sports On Earth. Any odds are too high for the Cardinals.

9. Dive Dive Dive, Sports On Earth. Dive Dive Dive.

As I say every week: If you are the sort to subscribe to a weekly newsletter, I would have to think it wouldn't be too much of a hassle to subscribe to one of the three podcasts I do. You don't even have to listen to them! Just download them. Here they are:

Grierson & Leitch, discussing "War for the Planet of the Apes," "Mulholland Drive" and "Kicking and Screaming." We get to discuss "Dunkirk" this weekend.

The Will Leitch Experience, back with Alyson. Two fun shows coming next week.

Waitin' Since Last Saturday, no show this week, which is my fault: I got a New York magazine deadline dropped on me and had to postpone. Season Three starts soon, I promise.

On Monday, I make the annual pilgrimage to Busch. Even when the baseball is bad, it's worth it.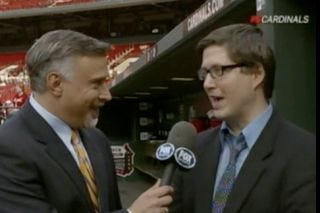 Have a great weekend, everyone.


Best,
Will