Volume 2, Issue 32: Hollywood Ending
The last few weeks of this newsletter have veered a little closer to "plaintive howls into the void" than the initial intention, which was just your basic "hey, Will works on a lot of different things in a lot of different places, so let's just have a weekly corralling of it all in one place." So we're going to get back to Basic Shameless Self-Promotion this week. Don't worry: I'll be back to the aimless pontifications you've come to know and tolerate in no time. But for now: I'm going to talk about my show.

I started doing television work for Sports Illustrated back in 2016, when Josh Oshinsky, my old producer on some truly great baseball documentaries -- which make up the majority of my IMDB credits, including one on Hank Aaron that you can watch at SunTrust Park anytime there's a rain delay -- took over at SI Video and asked if I'd want to do some work with them. I always want to do work with anyone, particularly Josh and Sports Illustrated, so they signed me up to be a cast member on "Pro Football Now," a weekly streaming NFL show alongside Maggie Gray, Andrew Perloff and Nate Burleson, right before Burleson broke huge. (He's now on "The NFL Today" and NFL Network's "Good Morning Football.") I would fly out from Atlanta every Wednesday morning, tape the show and then turn around and fly back and drive home the next morning. It was exhausting, never more so than November 9, 2016, when I had to get on a six a.m. flight the day after the election. Suffice it to say, the last thing anyone wanted to do that day was preview the Cowboys-Dolphins game. I enjoyed doing Pro Football Now, but once a week was too much, and, honestly, I simply don't like the NFL quite enough to be a talking head on a weekly show about it. When the season ended, I figured Josh and I would work together on something again at some point, but my PFN days were done. I at least got a cool coffee mug out of it.


We sort of spent a year cooling our jets until Josh introduced me to a new producer, Luke Wahl, and brought me in to brainstorm something else for us all to do together. I had always liked the idea of a sort of mix between a podcast interview and the hoary, traditional talk show format; it was a way to almost sneak in a longform interview, usually in service of a theme I'd chosen for the show, in the guise of a fake talk show. And it would allow me to live out all my Letterman fantasies from my youth. I basically sold this as the idea, with a straightforwardly square name like "The Will Leitch Show" -- the joke being the ludicriousness that such a thing could ever exist -- and hey, I'm cheap, I work fast, I'm affable, I aim to please, why not, let's give it a shot. So last January, we just started making them.

Television is still something that doesn't come inherently easy for me, but it's something I've worked on improving at; I now feel comfortable in front of the camera in a way I never imagined I would, though not nearly as comfortable as I do behind a computer, where I'm more comfortable than probably anywhere else on earth. (That's why I insist on writing most of the entire show myself.) But I figured let's go for it: I figured I'd make as many of the shows as I could until they realized what a mistake they'd made giving me a show in the first place. We taped our first show on January 9, 2018, at 10 a.m. in New York, the morning after the Alabama-Georgia CFP Title Game ended at roughly 12:45 a.m. and I wrote this piece about it. I got to my AirBNB across the street from Mercedes-Benz Stadium about 3 a.m., slept for about an hour, then showered, put on my suit, caught a 6 a.m. flight to NYC and was on set with Tara Lipinski at 10. That was a rather long day.


Since then, we've done 29 of those buggers, with me flying out there every two weeks and taping one, two or three shows at a time, depending on how many fools we can talk into coming on. We ended Season One of the show last week with MSNBC's Steve Kornacki, and we're going on hiatus until February 2019. I'll be taping a bunch of remote segments in between now and then so we'll have them banked for Season Two, but I won't be behind a desk again until after the Super Bowl. (Assuming of course we all live that long.) I will confess that I will miss it. I like it more, and take more pride in it, than I ever thought I would.

I know I promote the show every week in this here newsletter, but I'm not very good about it otherwise. Promotion has never been my strike zone; I tend to get too distracted by writing long-winded essays about aging, and fascism, and death. But you really should watch the show. If you are subscribing to this newsletter, you obviously have some interest in what I'm making over here. The show is roughly the televised version of this newsletter. You can watch it on SI.tv right here, though I find the easiest way to watch it is through Amazon Video. It costs four bucks a month to subscribe to watch, but if you're savvy, you can use the free trial, watch all the shows and then unsubscribe. I don't think you should do that! You should stay a subscriber and watch all the awesome SI shows, from The Crossover to The Wilder Project to SI at the Movies (which I also host). But I'm just saying if you're cheap and don't care enough about me to actually pay for my show, it's an option.

Anyway, as we close Season One, I thought I'd go back and look at every guest we've had this year. Anyone who would ever deign to come on my show is basically a friend of mine for life at this point -- with one notable exception! -- so you should go support all their stuff too. I'm truly honored to get to do this. I can't wait to get back out there and make some more.

Episode One: Tara Lipinski.


She was absolutely delightful and way more patient with the sleep-deprived first-time host than she probably should have been.

Episode Two: Jason Gay.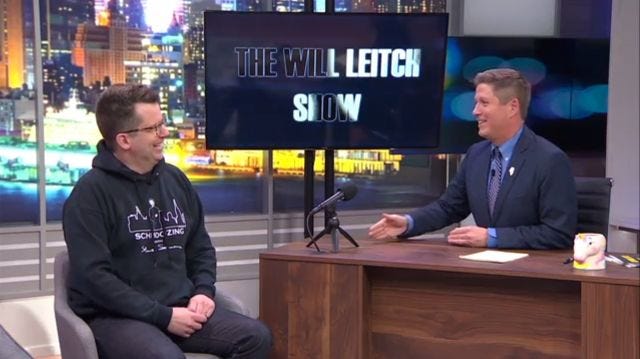 I've been friends with Jason for years, which makes it a little disappointing how much he apparently considered my show the ideal place to dress down.

Episode Three: Drew Powell



A fellow Midwesterner -- albeit a Hoosier -- Powell, who played Grundy on "Gotham," was one of the most purely enjoyable and surprising guests we ever had on. He also remains the guest I currently text about Big Ten basketball with the most.

Episode Four: The Sklar Brothers


Two lovely St. Louisans who briefly allowed me on their "texting-with-Jon-Hamm-and-the-Sklars-about-St.Louis-sports" text chain before wisely taking me off. (I did a little too much screaming about Mike Matheny.)

Episode Five: Chris Hayes
This might have been our first purely successful show, the one that turned out exactly the way I wanted it to, and it's the one that we still show to guests to sell them to come on. You'll see, with the quality of guests we'd end up getting, that it works.

Episode Six: Godfrey


I'm not sure this one worked that well, but it was my fault, not Godfrey's. He played football for Illinois, though, so it's all good.

Episode Seven: Taylor Rooks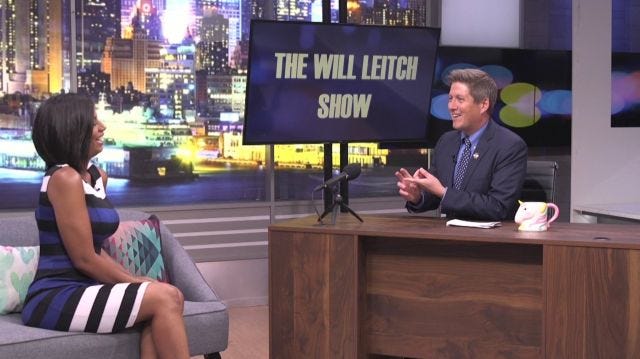 Speaking of Illinois, fellow alum Taylor Rooks is an up-and-coming sports journalism star and I just hope she remembers me when she rules the planet someday.

Episode Eight: Judah Friedlander


He was actually playing a show in Athens the week after we taped this, and he emailed me to meet up, but I was slammed that week and never got back to him. I feel sort of like a jerk about that.

Episode Nine: Grant Wahl



In a pinch, you can always book a guest who already has a show on your network and just works down the hall.


Episode Ten: Ron Livingston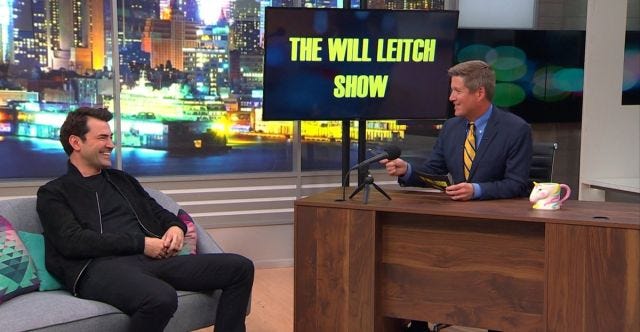 Ron Livingston is one of those actors you know best from whatever you saw him in first. (It's Swingers for me.)

Episode Eleven: Stephanie Beatriz


This was right before "Brooklyn 99" was canceled and then put back on the air. I can't wait for it to come back.

Episode Twelve: Keith Hernandez


We did this show right after I cut off the tip of my finger, and I have to say, I was legitimately moved by how concerned Keith Hernandez seemed about it.

Episode Thirteen: Sydelle Noel


A former UGA track star, she was blown away that I lived about a five-minute walk from where she used to compete. She was awesome, and now she's the only thing I watch when see Black Panther.


Episode Fourteen: Chris Nashawaty


The Entertainment Weekly scribe wrote a book about Caddyshack (and also works in the building).

Episode Fifteen: Anthony Scaramucci



This was a difficult show, for all sorts of reasons that I wrote about here. I did enjoy that the aforementioned Jason Gay saw this photo and said, "You look like the LeBron/J.R. Smith meme" and he was absolutely right. That's how it felt too.

Episode Sixteen: Lea Thompson


If you were to twist my arm, I'd say that Lea Thompson was my actual favorite person I've had on the show. She was an infinite ray of sunshine. And considering she came in mere seconds after Scaramucci, I needed some sunshine.

Episode Seventeen: Thomas Q. Jones


People don't realize that Thomas Q. Jones, who was on "Luke Cage" and has a burgeoning acting career going, is the Thomas Jones who played for the Bears, Jets and Cardinals in the NFL. He was an excellent guest, thoughtful, funny and clearly headed for even more excellent things.

Episode Eighteen: John Heilemann


My old podcast partner is probably the closest personal friend I've had on the show, which was great for us but bad for the poor producers and editors who had the cut our endless conversation down to a manageable length.

Episode Nineteen: Bassem Youssef


Known as "the Egyptian Jon Stewart," Youssef wasn't just a great guest ... he successfully hid his repulsion that an idiot like me has a show when he clearly should have one, or several.

Episode Twenty: Mackenzie Phillips


One suspects, as we discussed on the show, that if Mackenzie Phillips' book about her drug abuse and her relationship with her father came out today, it would be greeted in a far different way than it was in 2009.

Episode Twenty-One: Guy Pearce


I'd argue the biggest actual star we've had on the show, Guy Pearce was an absolute blast. I'm still disappointed I couldn't talk my producers into editing the show backwards like in Memento.

Episode Twenty-Two: Andrea Kremer


The best interviewer in the sports journalism business -- which I wrote about here -- gave me the best interviewing advice I've ever gotten. I suspect the levels of advice she has are infinite. But others deserve it a lot more than I do.

Episode Twenty-Three: Rob Riggle


If you were wondering whether or not Rob Riggle wanted to give his opinion on the NFL anthem protests, let me tell you: Rob Riggle does not want to give his opinion on the NFL anthem protests.

Episode Twenty-Four: Robert Wuhl and Mike Tollin


ARLI$$$$$$$$$$$$!!!!!!!!!!!!!

Episode Twenty-Five: Trevor Long



I'll confess, I've never seen "Ozark," which Long stars on, but my parents say he's great on it. When I told him this, he commenced hitting on my mom through the camera, which you've gotta respect. This is the one episode, thanks to a tech snafu, that isn't on Amazon: You have to watch this one on SI.tv.

Episode Twenty-Six: Donald Faison and John C. McGinley


These two were actually scheduled separately from one another, to promote two different things, but when we ran out of time and saw how happy they were to see each other in the green room, we just put them on at the same time. It was a bit of a madhouse but worth it, I think.

Episode Twenty-Seven: Mark Leibovich


I've been such a huge fan of Leibovich's work for so long that I was mostly just excited to finally meet him. (We'd been emailing for years.) I now think we should do a vaudeville tour together, like Steve Martin and Martin Short.

Episode Twenty-Eight: Dale Earnhardt Jr.



Most athletes are dull: It's why I usually don't like talking to them! But Earnhardt was funny and laid-back and impressively smart. If all NASCAR drivers were like him, I think I'd watch that sport all the time.

Episode Twenty-Nine: Steve Kornacki


Know that I loved Steve Kornacki before it was cool to like Steve Kornacki.

I'm excited beyond belief to work with the staff again in February, including my new producers Jessica Smetana and Anthony Canavaciol. Look, it's always possible that Sports Illustrated gets sold in the next three months and the new owners go, "why in the world are we doing this stupid show?" That's OK. I'm still baffled they let me do this many. I'm just luck: I know I'm getting away with something. It's just a fun project I've gotten to work on and you subscribe to this newsletter so I decided I just wanted to talk to you about it for a bit. We finished a whole season! In 20 years, the boys will never believe that Daddy had a show. It'll be nice to have something to show them that gave them a little idea what Daddy was about. Though I hope they don't call me Daddy then, they'll nearly be in their 30s, that'll be weird.

Anyway, they're fun. You should watch them on SI.tv or Amazon Prime. And if you have any ideas for Season Two, or guests you think would be great, just email me at will.leitch@nymag.com. Let's get away with something together.

Here is a numerical breakdown of all the things I wrote this week, in order of what I believe to be their quality. (This is an attempt to have an objective look at the value of my work in a way that I suspect will be difficult to sustain.)

1. My Big 2018-19 Illinois Men's Basketball Preview, Smile Politely. It is a little embarrassing how thrilled I am to have Illinois basketball back. First game was a fun one too!

2. The Best Movies About Real-Life American Presidents, Vulture. We have a bunch of Vulture lists in the hopper: I'd almost forgotten we wrote this one months ago.

3. The Cardinals Should Do Whatever It Takes to Get Bryce Harper, MLB.com. Well, they should!

4. Every MVP, Ranked, MLB.com. This one took a loong time to put together.

5. What's on Deck for the New Giants GM? MLB.com. It's easy to win titles when Mike Matheny is in charge of Michael Wacha.

6. Debate Club: Best Bond Songs, SYFY Wire. I'm a sucker for the Adele one.

7. The Thirty: Best Free Agent Signings, MLB.com. All hail Matt Holliday.

THE WILL LEITCH SHOW




Didn't I just mention we were on hiatus? Watch 'em! On Amazon or on SI TV.

PODCASTS

Grierson & Leitch, a split on "Bohemian Rhapsody," then "The Other Side of the Wind," "Thunder Road," "Boy Erased" and rebooting "Freeway."

Waitin' Since Last Saturday, reviewing the Kentucky win, previewing today's Auburn game, which I will be at.

Seeing Red, Bernie Miklasz and I were back, and talked mostly about Bryce Harper.

All righty, all. It's nice to have an excuse to wear sweaters again, isn't it?

Also, worry not: Spider-Man is here to save us.



Have a great weekend, all. Be safe out there.


Best,
Will