Volume 2, Issue 49: Zelig
Captain Marvel hit theaters this weekend, and it is fine. Not particularly inspired but competently made; Brie Larson is terrific like she is in everything, they made Samuel L. Jackson look 25 years younger somehow, the action sequences are dark and poorly constructed, Ben Mendelsohn is as great as always, it's an appropriate but familiar transition into the next phase of Marvel movies that will rule the next decade of our filmgoing lives. It's average, right down the middle.

The only thing memorable about Captain Marvel is that it takes place in 1995. The trailer made this explicit by having Captain Marvel crash into a Blockbuster Video, a company that thankfully went out of business. I'm thankful because I'm pretty sure I owed the Blockbuster on Neilson Way in Santa Monica about 200 bucks when I moved out of Los Angeles, and that would be roughly four million dollars by now. Part of getting older is accepting that popular culture passes you by, and the music and movies you loved when you were younger grow dated and end up, for kids today, the same dopey '80s Night! kitsch you loved mocking of back then. (I'll never forget the first time I heard Nirvana on an oldies station.) It is one thing to recognize this. It is quite another for a major Hollywood movie to treat your formative college years as if they are making a period piece.

Watching Captain Marvel, with its '90s technology and '90s soundtrack and '90s fashions, is not like flashing back to 1995. It's instead a roll call of tropes that people use to indicate 1995, a difference that's both substantial and probably beside the point. It's like watching one of those CNN "Now THAT'S What I Call Nineties!" shows rather than anything that legitimately takes you back to that time. That matters, because you can not in fact go back to that time; this is all you get. This is how history ultimately works. It doesn't matter what you remember. It's what lasts. And I'll confess: Captain Marvel makes a strong case that the stuff that's going to last from the '90s is ... all the wrong stuff. Particularly when it comes to music.




In many ways, my musical sensibilities, like many people's sensibilities, were locked into place during the era of my most formative musical experience. That era begins in about 1991, with the discovery of R.E.M. and U2 and Public Enemy and especially Nirvana, and runs until about 1998, when I had to get a normal human being job and stopped having time to sit at home and listen to music all day and all night. Captain Marvel, like any period piece, draws much of its generational verisimilitude from his soundtrack, and so, theoretically, that soundtrack should line up rather exactly with my own. But, alas, it does not. The music snob I was in 1997 would have never stopped scowling at the songs in Captain Marvel.

That, however, does not mean that snob was right. (In my universe, the only perfect soundtrack for Captain Marvel would be the No Alternative soundtrack.) What's fascinating is seeing what '90s songs and artists have increased relevance in 2019 -- which ones fit today -- and which ones will be lost to history. Because as much as I'd love to sit you down and prattle on all evening about the albums That Really Mattered, Man, the real time capsule isn't the CD rack I got rid of 15 years ago: It's movies like Captain Marvel.

So, some observations, having watched Captain Marvel and flipped through its official soundtrack, on how my era of music is likely going to end up being documented, whether I like it or not.
There's a ton of female-driven songs, but they missed most of the best ones. As you'd expect from Marvel's first blockbuster built around a female lead, they play up the Girl Power '90s songs, but I'll confess, if you would have told me back then the most lasting female voice from the mid-'90s was going to be Gwen Stefani, I would have absolutely not believed you. No Doubt's "Just A Girl" plays during one of the climactic fight sequences, and, alas, No Doubt was far too pop for me back in 1995. Remember, actually selling records was something you were supposed to be embarrassed about back then, and that band was clearly desperate to sell records. That plays a lot better in 2019 than it did in 1995, at least among music snobs like floppy-haired 20-year-old shithead Will Leitch. To its credit, the movie does feature Garbage's "I'm Only Happy When It Rains" and Elastica's "Connection," but I really could have used some L7, or some Four Non Blondes, or, jeez, even some Liz Phair. (Seriously, how is there no Liz Phair in this movie?) The Breeders' "Cannonball" was essentially invented to be the soundtrack of a female action hero kicking people's faces in.


That Bush is considered a lasting '90s band is a sign that the world is getting worse and is probably doomed. There's a wall of posters and concert promos prominently in the background of one scene, and the two key bands featured are Smashing Pumpkins and Bush. I knew my little era of weird bands making weird sounds and somehow getting record deals out of it was about to end when Bush showed up, a pretty boy doing shitty Nirvana knockoffs in a British accent and all sorts of faux-angst. They'd learned how to package and sell what I loved in a way that was obviously going to change it forever. The number of bands who should have been featured on that wall above Bush (and above Smashing Pumpkins, for that matter, but I'll let Billy Corgan slide because I wouldn't want to upset his cats) are so manifold that attempting to list even a tenth of them would take up the rest of my work week. Perhaps not surprisingly, Bush played a Captain Marvel premiere event. (With L7, alas.)






Captain Marvel wears a Nine Inch Nails shirt for most of the movie. One of my formative concert experiences was Nine Inch Nails at the then-Assembly Hall in Champaign, Illinois, in November 1994. (With openers Marilyn Manson and the Jim Rose Circus Sideshow. You can actually watch this entire concert right here.) It was one of the wildest, most nihilist things I'd ever seen, though, allowing for the fact that I was 19 years old, second place was probably "watching my grandmother take her teeth out before bed." There was a time that Nine Inch Nails seemed full-on dangerous -- remember, that album was taped in the house where Sharon Tate was murdered so Trent Reznor would constantly be in the headspace of murder and despair -- so to see a superhero wearing one of their shirts throughout a whole movie is ... odd. Though, to be fair, I sometime listen to "The Downward Spiral" during half-marathon training, so it's not like I'm exactly Mr. True To The Artist's Vision myself.



There's an R.E.M. song, but not a U2 song. For those of us who had many very strongly worded back-of-the-bar verbal tussles about which band was better and more important throughout that entire decade, I will confess this felt like a victory. Though maybe "Man on the Moon"'s rights were just cheaper than "The Fly"'s.


No Nirvana song ever sounds right in a movie. You are sort of obligated to include a Nirvana song in a '90s movie, but they never fit the narrative. They're too personal and idiosyncratic and damaged, I'd argue, to ever quite fit into any other artist's vision than Kurt's. "Come As You Are" pops up here, and I honestly don't even remember anything that happened in the rest of the scene because I was listening to the song. This is the same reason I can't write when Nirvana's playing in the background. I end up dropping whatever I'm doing to pay attention to the music.


The closing song is "Celebrity Skin" by Hole. Back then, I was convinced that Courtney Love would be the lasting cultural figure of the decade rather than Gwen freaking Stefani, but all told, it's probably for the best. But the closing credits song of Captain Marvel is Hole's "Celebrity Skin," which is off a Hole album that isn't "Live Through This" (and is therefore mostly irrelevant), but I have to say ... that song is much, much better than I remember it being. It sure does sound fantastic in state-of-the-art theater speakers. Good for you, Courtney. May there be no more Wendy's incidents for you.
Bands that I love unconditionally that are in serious danger of being written out of the '90s musical narrative entirely: The Beta Band, The Breeders, Built to Spill, Cracker, Detroit Cobras, Dinosaur Jr., Granddaddy, Helmet, Luscious Jackson, Modest Mouse, Pavement, PJ Harvey, Matthew Sweet, Screaming Trees, Smoking Popes, The Sugarcubes, Tad, Uncle Tupelo.


Apologies to Pavement, Wilco (and Son Volt, for that matter) and Radiohead, whom I haven't even talked about yet. They need to not make any more movies set in the '90s, honestly, this is exhausting.
By the way, if you are not demographically adjacent to your humble narrator, I do apologize for this newsletter reading even more like jibberish than it usually does. White people music, right?

Here is a numerical breakdown of all the things I wrote this week, in order of what I believe to be their quality. You may disagree. It is your wont.

1. Culturally, We Have Different Views of Losing Than We Used To, New York. I'm back on my weekly NYmag column thinkpiecing.

2. Review: "Captain Marvel," Paste Magazine. There is also a movie, in addition to the soundtrack.

3. The Data Decade: The Best Catchers of the '90s, MLB.com. Not picking Yadier Molina No. 1 is going against my kin.

4. Your American League Central Preview, MLB.com. The most boring division in baseball, for now, anyway.

5. Debate Club: Best Genre Movies of the '90s, SYFY Wire. It's the theme, this week, this decade.

6. The Thirty: Best Ballpark Promotions, MLB.com. This bobblehead collector got a little too into this one.

THE WILL LEITCH SHOW


Episode Three of Season Two features Jason Jones, and we talked more about Carl Monday than is probably natural. Watch it on it on Amazon or on SI TV.

PODCASTS

Grierson & Leitch, if you can stomach any more "Leaving Neverland" talk, we discussed that, as well as Gaspar Noe's "Climax" and Neil Jordan's "Greta."

Seeing Red, back to weekly, we'll be live next week from Cardinals Spring Training.

Waitin' Since Last Saturday, Scott did a good interview with UGA fella Logan Booker, who is my kinda guy.

GET THIS LUNATIC OUT OF HERE 2020 PRESIDENTIAL POWER RANKINGS


Denver Gov. John Hickenlooper entered the race this week. I love that almost every picture of him features him holding a beer. (He of course made his money through beer.) He strikes me as a genuinely person, and I like the idea of the vice president being your friend's cool dad. Not sure about the big job just yet though.

1. Kamala Harris
2. Elizabeth Warren
3. Julian Castro
4. Jay Inslee
5. Kirsten Gillibrand
6. John Hickenlooper
7. Amy Klobuchar
8. Cory Booker
9. Pete Buttigieg
10. Bernie Sanders
11. Andrew Yang
12. John Delaney
13. William Weld
14. Marianne Williamson
15. Tulsi Gabbard

ONGOING LETTER-WRITING PROJECT!

I'm sending this newsletter right before flying to Florida, and I should be entirely caught up now. So if you don't have a letter from me in the next week, I didn't get your last one. Send me more!

Will Leitch
P.O. Box 48
Athens GA 30603

CURRENTLY LISTENING TO


"Make You Feel My Love," Bob Dylan. All this '90s talk should not distract us from what is, uh, maybe the best album of the '90s?

The kids' school had a dress-up day yesterday. Wynn went as Dash from The Incredibles. William decided to go as a college basketball coach. (You should have heard what he said on that wiretap.)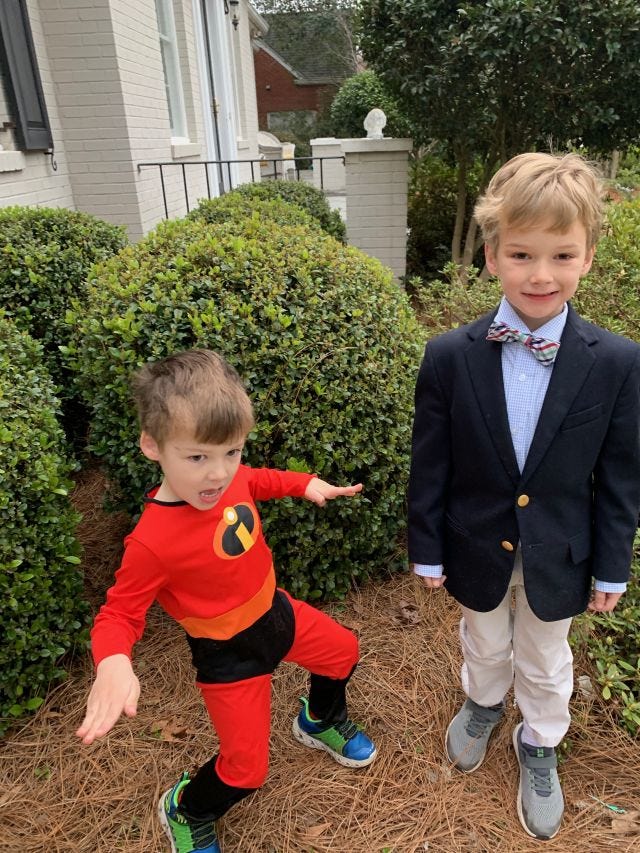 Have a great weekend, all.


Best,
Will