Volume 2, Issue 63: Bull Black Nova
It was the summer of 1989, and I was 14 years old, playing basketball over at the neighbor kid's house and trying to fill my day with whatever in the world one filled one's summer days with back then. (I do not remember my parents wrenching their brains to keep their children entertained and active all summer the way we as parents now feel compelled to do.) We lived in a rural subdivision, which is another way of saying they built a gravel roadway off the main road long enough that over the span of 20 years, people started building houses along it. My friends and I were shooting around in the driveway when I looked at the road leading up to my house about 200 yards away and saw my dad's pickup truck leading a tow truck pulling a car I'd never seen before into our garage. It was beaten-up, dingy, a little rusted, but it was an undeniably Cool Guy car, or at least once was, and perhaps could be again.

It was a 1967 Chevrolet Camaro Super Sport model. That was the first year they made the Camaro, 1967, and Dad would have been around 17 years old when it was introduced. It was a car my dad surely had dreamed of someday owning but never was able to. In 1989, at the age of 40, he finally got his chance.

I immediately bailed on my basketball game and ran home to see what the deal with this car was. Dad told me he bought the frame from a guy he knew from work, cheap, a guy who know how much work the car would require but didn't have the time or inclination to put it in himself. The purchase was the first part of a multi-year plan. I was getting close to driving age, and seemed, to Dad, more interested in staying inside reading and watching baseball than working out in the garage like Dad preferred or, frankly, doing much of anything useful. We would work on this car together, he said, taking it apart, putting in a new engine, restoring the interior, giving it a new paint job, basically redoing the entire vehicle and restoring it to its previous glory. If I showed the ultimate respect for the car and that process of reconstructing it, when I turned 16 and earned my drivers license, it would be mine.

This was an excellent way to get me out to the garage. For the next year-plus, Dad and I tore that car apart. We yanked out the ugly old seating and put in sweet bucket seats. We shifted the three-speed transmission from the column -- which is extremely uncool, like you're trying to drag race a tractor -- to the floor. We replaced the speedometer with one of those turbo ones that goes up to 260. (It is exciting, if you ever get a chance to do it, to get a car up to 80 and not even have it be a third of the way to the right.) We put it an entirely new engine. We painted it and polished it and returned it to its proper status as Cool Car. I'd argue that car looked better when we were done with it than it ever had in the first place.




And I learned so much about cars during that time! Dad finally had the son who would go out and work in the garage with him rather than the bookish, nerdy one he'd been stuck with up to that point. It was as close to a grease monkey as I would ever come. If you were to shake me in the middle of the night and demand a manual oil change on a 1967 Camaro, I could explain it to you without you even waking me up; I could even tell you the size of the socket wrench you need to take out the bolt to drain the oil. My job during the reconstruction of that car was mostly to hold the light for Dad and to hand him tools, but I couldn't help but learn from osmosis. We made that thing beautiful. We made that thing sing.

We, alas, did too good of a job. Too good of a job, anyway, to just hand the car off to a mulleted 16-year-old who, no matter how much he might have helped put it back together, should never be trusted with such a pristine vehicle to go joy-riding around with on a Friday night. We finished the car in September 1991, I turned 16 in October 1991, I took it to Homecoming a week later ... and then I think I was allowed to drive it maybe five more times until I left for college. My parents gave me their old shit-brown Ford Escort to take back-and-forth to school and pick up my sister from gymnastics, and the Camaro only came out of the garage for car shows, those weekends when my dad needed to feel 18 again and special occasions like school dances and graduation. It is impossible to blame them. Would you give the idiot in this picture the keys to a fully restored classic muscle car?




But -- and I hope it's OK to admit this now -- I used to sneak it out when I thought my parents weren't paying attention. Whenever I thought I could get away with it, I'd take it into downtown Mattoon and cruise Broadway Avenue, making sure everybody saw it and saw me behind its wheel. I'd always make certain, when I parked it back in the garage, that it had the same exact amount of gas as it did when I left. I'm sure my parents always knew. It was kind of them, and particularly my dad, never to call me on it. I never felt better than I did in that car.

My parents are in the process of hauling all their stuff from Mattoon out to Georgia, and the last trip will be saved for that car. It is perhaps my father's most proud possession. It is, perhaps inevitably, the avatar for his (rarely used) Twitter account. It would not surprise me if it is transported here by workers hired by my father to carry it on their shoulders across the country, while courtesans fan it and feed it grapes.

I understand why my father didn't give me the car back then. It was the correct choice in every possible way. But I've had a hard time caring about cars since.

I didn't have a car in college -- I used to just steal the Daily Illini car and drive it wherever I wanted to go -- and when I graduated, I took my parents' old 1993 Toyota Camry to Los Angeles, and then St. Louis, before we gave it to my cousin Jeff when I moved to New York in January 2000. I spent 13 1/2 years without a car before I moved to Athens in June 2013 and leased an 2012 Q37 Infiniti Sedan. I got another one, a 2017 version, when that lease ran out. They are good cars, that sort of "luxury" car that isn't oppressively inexpensive and doesn't make you look (that much) like an asshole driving one. But I think I've grown sick of driving the same car for six years. My lease is up at the end of November. I haven't decided what I'm going to get yet. I might be getting old enough that I no longer mind driving a car that makes me look like an asshole.

But no car will ever mean that much to me again. They're just cars, things I lease so I can take my children to birthday parties and get back and forth to the airport. You never quite get over the disappointment of having your first car be a beautiful, timeless one that you put your own sweat into constructing. I am not into cars at all anymore. My automobile handiness and aptitude now begins and ends with changing a tire. To open the hood to a modern car is to be greeted with an incomprehensible technology not meant to be understood by the fools who drive them. The only time I think about my car now is when something goes wrong with it. Cars are just another damn thing to deal with.

I miss caring that much about a car. I miss being behind the wheel of that Camaro, and having people look at you as me drove past them down the street, and pretending not to notice or care but feeling like I was the most powerful, coolest guy who ever lived because I was behind the wheel of a kickass car. I miss knowing how my car worked, knowing that it was driving smoothly because of something my dad and I had fixed just the day before. I miss taking pleasure from my car. I miss it being part of my identity.

When I was home back in January, it was an unusually warm and gorgeous Central Illinois day. Dad looked at me with a conspiratorial grin. "Wanna take the car out?" Oh, did I. We drove it all around, from Humboldt to Sullivan to Taylorville to Assumption to Moweaqua to Sigel to Neoga to Trilla to back home. We just road around together, in silence with the Cardinals game on the radio, appreciating the car, our history with it, our time together. It still runs great.

I don't know what'll end up happening with it. My dad will give it all the tender loving care it deserves, but someday he won't be able to. Then it will be up to me. I don't know if I have earned that responsibility. I don't know what I'll do with that beautiful car. I don't know what will happen.

But I can guarantee you this: Neither one of the boys who live in this house are touching it.





Here is a numerical breakdown of all the things I wrote this week, in order of what I believe to be their quality. You may disagree. It is your wont.

1. How Warriors Minority Owner Mark Stevens Explains What's Going On in Sports and America Today, New York. Big themes, and Big Serious Writer Guy is here to explain them to you.

2. Review: "Men In Black: International," Paste. This is a perfectly straightforward, not-all-that-special review of a dull movie, but I just hadn't written a movie review in a month so I got excited about it. I missed it. "Toy Story 4" next week!

3. Data Decade: Best Right Fielders of the 2010s, MLB.com. Thus finishes the position players.

4. Golf Magazine Instructional Column No. 6: Putting, GOLF Magazine, print only. Still on newsstands everywhere. Seriously, pick one up and look for me at your local grocery store or dentist's office.

5. The Thirty: Player Who Owns Your Team, MLB.com. This was a clever idea from my editor Matt Meyers, and I enjoyed researching and writing it.

6. Overlooked All-Star Dudes, MLB.com. No Cardinals, obviously.

7. Debate Club: Best Will Smith Genre Movies, SYFY Wire. Welcome to EARTH. [punch]

THE WILL LEITCH SHOW




I yammered enough about this last week, but we have completed Season Two. Back in September for Season Three. Watch the ones you haven't seen on Amazon or on SI TV.


PODCASTS

Grierson & Leitch, "Dark Phoenix," "Late Night," "The Last Black Man in San Francisco" and "Pontypool."

Seeing Red, Bernie and I just shrug, really.

Waitin' Since Last Saturday, new show, with the new desk, and I uncorked some good bourbon-fueled rants.

GET THIS LUNATIC OUT OF HERE 2020 PRESIDENTIAL POWER RANKINGS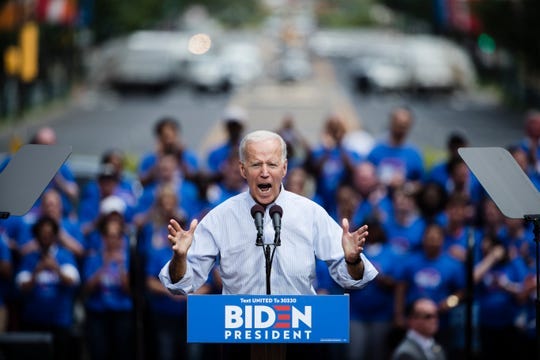 My thoughts about Joe Biden are well-documented, but ... the ship seems a little unsteady right now. Remember, the only thing that matters is that right-minded thinking get behind whoever the nominee is -- because a name pulled from the phone book is better than the current situation -- so we should all be easy with the brickbats. But this week has been a reminder why Joe Biden has never been a particularly good Presidential candidate.

By the way, debates are so soon! I think I'd rather be on the second stage, the one with Biden, than the first one.

1. Kamala Harris
2. Elizabeth Warren
3. Beto O'Rourke
4. Pete Buttigieg
5. Joe Biden
6. Amy Klobuchar
7. Cory Booker
8. Kirsten Gillibrand
9. Seth Moulton
10. Julian Castro
11. Jay Inslee
12. Bernie Sanders
13. Michael Bennet
14. John Hickenlooper
15. Steve Bullock
16. Bill de Blasio
17. Marianne Williamson
18. Tim Ryan
19. Eric Swalwell
20. William Weld
21. Tulsi Gabbard
22. John Delaney
23. Andrew Yang
24. Wayne Messam
25. Mike Gravel

ONGOING LETTER-WRITING PROJECT!

I am behind on responding. That changes this week! I just sent a bunch out this morning. Bring 'em on at:

Will Leitch
P.O. Box 48
Athens GA 30603

CURRENTLY LISTENING TO




"Isis," Bob Dylan. Oh, man, this documentary. We'll be discussing it on Grierson & Leitch this weekend, but wow, do you need to watch it. It's worth it for the Sharon Stone part alone.

Also: BLUES!!!!!!!!!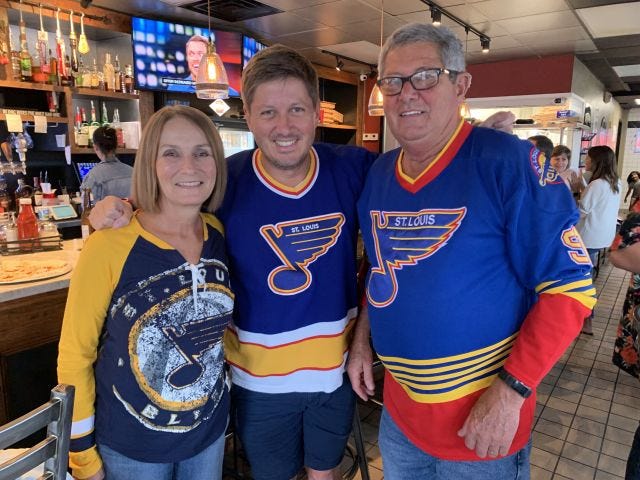 Envious of all of you who will be at the Blues championship parade today. Wish I could be there. Have a great weekend, all.


Best,
Will