Volume 3, Issue 20: Casino Queen
"And the dealer keeps on jokin' as he takes my last token."
Here is a button where you can subscribe to this newsletter now, if you have not previously done so. I do hope that you enjoy it.
The last time I ever played organized baseball, I took a line drive to the groin. Old-time Life As A Loser readers will know this story—I later repurposed it for Catch—but my final baseball game was the back half of a doubleheader for a traveling All-Star team in 1994. I was 18 years old, back home after my freshman year of college and working at a factory for the summer, and our season ended on a sweltering June night in nearby Effingham, Illinois. I was a catcher, so I caught the first game of the doubleheader, so even though you can't catch both games of a doubleheader, because everyone knew it was going to be my last game (and everyone knew how desperately I was going to miss it all), they put me out at third base, a position I didn't know how to play, for the nightcap.
Knowing this was it for me, I tried to treasure every moment, soak in every little detail: The pop of the glove, the chatter of the infield, the feel of the dirt clomping with every step of my spikes, the way the lights above the field reflected off the batter's helmet, giving every hitter a faint glow. I absorbed it all. Baseball. Which is why I, still in the first inning, was an instant late getting to the screamer an Effingham hitter hit right to me, a one-hop whistler that deposited itself directly in my crotch. I fell to a heap on the ground and moaned.
My coach and my shortstop picked me up and carried me to the bench, and I never played baseball again.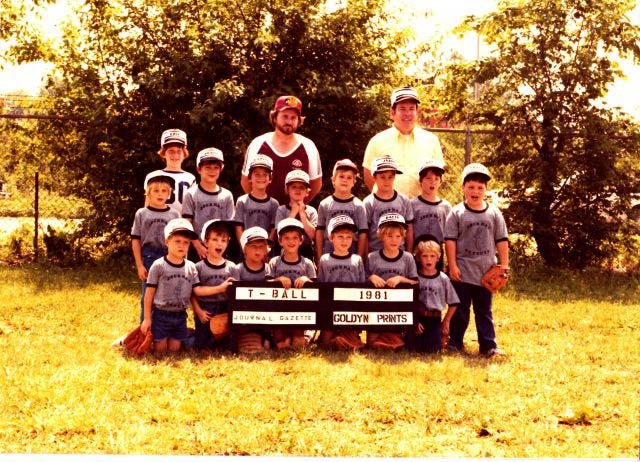 This weekend, I was supposed to be at Busch Stadium in St. Louis. My son William and I take a road trip to Busch every year. Two years ago, he sat out a four-hour rain delay and was rewarded with the firing of Cardinals manager Mike Matheny. Last year he saw two Cardinals wins, and he got to stay up late and eat sandwiches in an AirBNB with his dad while they went over all the key points of that night's victory. This year, he was particularly excited because we were going to see the Cardinals play the Yankees. William likes to tell people that the first baseball game he ever went to was at Yankee Stadium. "I was in Mommy's belly," he says. Which is true.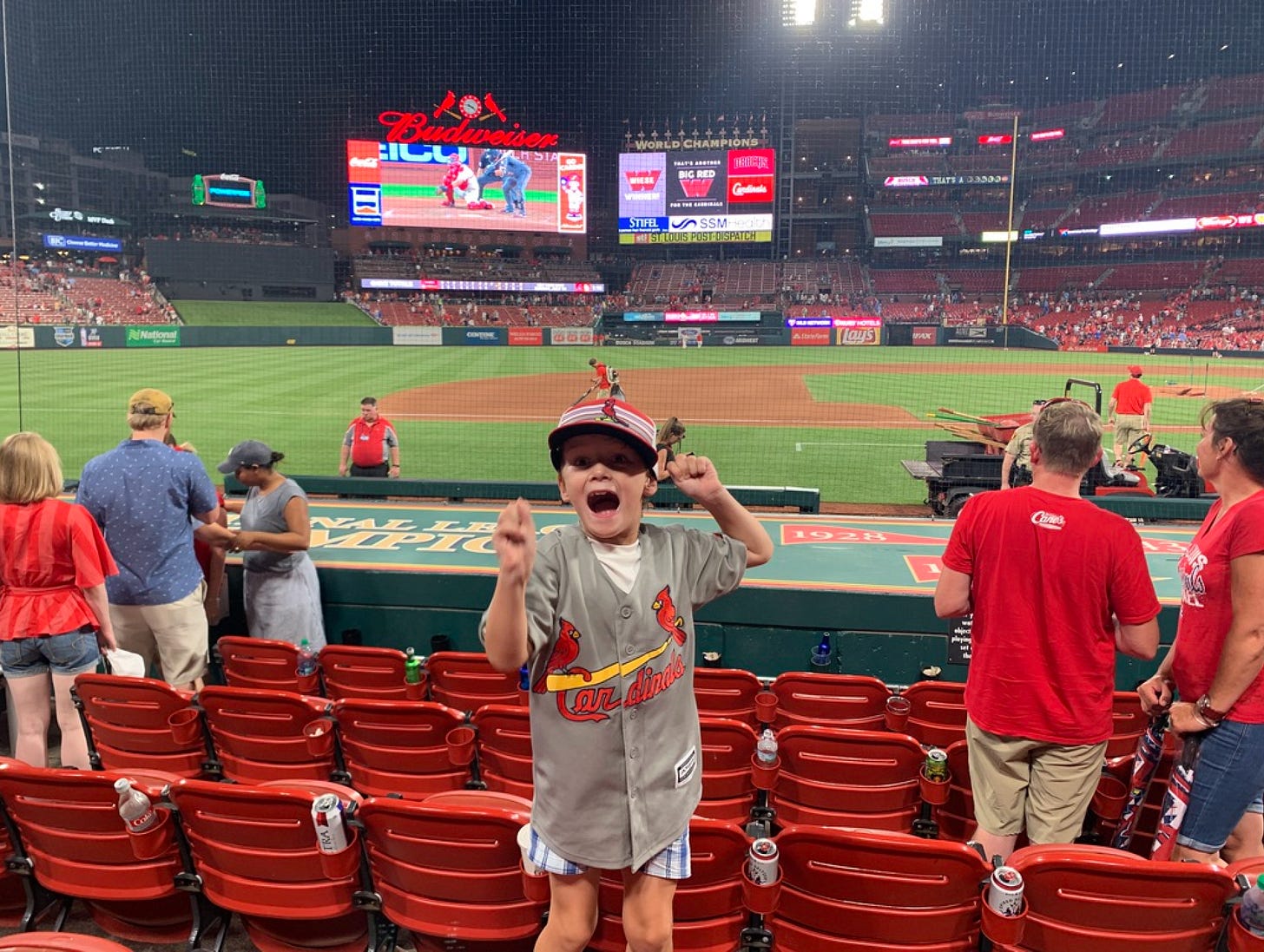 This year's Busch Stadium trip, like our annual trip to Six Flags, like the vacation to Charleston, like the trip with my parents to London, like the Memorial Day weekend we were going to spend watching the Cardinals in Atlanta, like the anniversary trip to Spain, like the roadtrip tailgate to Tuscaloosa, like the Little League season, like the first month (and maybe more) of elementary school, has now been canceled. We have an ongoing joke in this house that every time we remember what we would have been doing at that moment, had it not been for a ghoulishly persistent virus that our country has proven incapable of confronting, let alone conquering, we roll our eyes and give a cartoonishly sad-trombone "But We Can't … Because Of The Coronavirus." Womp-womp. We do this a lot.
So much has been lost already. This has only been going on for a little more than four months, and the memories and experiences taken away are already immeasurable. And it all adds up. I have vivid memories of family trips when I was eight years old: I was eight when we drove to Cincinnati for a weekend Cardinals series (which is what vacations were when I was a kid, trips to wherever the Cardinals were playing), stayed in the same hotel as the players and ended up in the same elevator with Ozzie Smith and his son. (The same one who was later on "American Idol," though he was only two at the time.) My oldest son's memories at that age will be of being stuck in the house with his family, of not being able to see his friends, of everyone being scared and anxious all the time. Both he and his brother have been strong and resilient through all this, probably stronger and more resilient than their parents, but this is surely going to affect them in ways none of us will fully understand for years. If it's the signature event of my life—and it would have to be, yes?—then I cannot fathom what it must be like for them. Every minute that clicks by is a life experience they should be having but aren't—another tick of precious, fleeting childhood that is gone.
I feel similarly about my parents. They are two people who each worked 50-hour weeks, on their feet all day, for 40 years, to send their kids to college, to save up enough money to retire, to move to Georgia to be closer to their grandchildren and maybe do some of that traveling they always meant to get around to. And now they can't leave their house because we can't get control of a deadly virus that seems specifically designed to attack them. This is supposed to be the relaxing part of their lives, a retirement they richly deserve. And it has turned out to be the most tumultuous.
We're all supposed to be living right now. And we're not. And none of us know when we get to start again.
Which brings me back to baseball. This Thursday night, Major League Baseball will (maybe? probably?) have its Opening Day. Matters are so fraught right now that where this Opening Day game will actually be played was just settled yesterday. Professional baseball players are the only Americans being let into Canada right now. The high five and spitting have been banned, and they're pumping in crowd noise. It's very strange. But it does appear to be happening.
There have been arguments, reasonable arguments, that baseball (and all sports) shouldn't be trying to come back in the middle of a pandemic, that there are ethical and moral quandaries wrapped in every aspect of it, particularly now that there are massive COVID spikes happening at the exact moment the sport is returning. I am empathetic to these arguments; they absolutely make sense, even if I wonder if whether sometimes the stridency with which people make them doesn't veer toward the performative. But: While acknowledging that while nothing is truly safe, if we are not going to entirely lock down again (and we're not, even if we maybe should), and we are going to open restaurants and banks and schools and Disneyworld and freaking Hooters, baseball stadiums with no fans doesn't strike me as uniquely dangerous, particularly when players and umpires and staff have safety and testing protocols in place that few in other industries have. (Which is of course its own problem.) There are also financial considerations for many people involved, in all sports, from players to staffers to media organizations to merchandisers to local businesses, a consideration from which I am not immune. I will confess that it will make it more difficult for this professional sportswriter to earn money for food and lodging if there are in fact no sports to write professionally about; that should be accounted for in any consideration of my thoughts here, conscious or otherwise. All sports are trying to come back, and I'm not sure it's as simple as "owners are greedy and trying to kill people." (As little as I want to be on any sports owner's side on anything.) Are sports rushing it? Should they stop? Or should they, all sports, just do what they can to muddle through in an impossible time, like the rest of us? I don't know. It's an extremely complicated situation during an extremely complicated period, and the only viewpoint I'm suspicious of is one that claims anything at this moment in history is simple and clear-cut. I don't have all the answers. I'm not sure I have any of them.
But that's all just rhetoric and high-minded pablum, if I'm being honest. My desire for baseball to come back isn't rational or pragmatic. I'd want it to come back, I'd need it to come back, if I were a sanitation worker, or a dog catcher, or a vacuum salesperson.
Next Friday night, if baseball can thread this needle, the St. Louis Cardinals will play the Pittsburgh Pirates at an empty Busch Stadium. I've been watching the exhibition intrasquad games on MLB.tv, and the simple sight of seeing players I recognize, wearing that jersey, on that field, has been more of a comfort to me than, all told, I am personally comfortable admitting to you. I know these games don't make all the misery of this moment go away. They haven't made me forget what's happening in this country, and the world. They haven't made me coarse and cold-hearted to the health and suffering of my fellow human beings. The reality of 2020 surrounds us at all points, and any escape from it is purely temporary.
But as far as temporary escapes go, this is a pretty great one.
I know that many of my fellow sportswriters have struggled with writing about sports at this time, and I understand. But I've found it comforting—even therapuetic. Sports have always lived in the land of fantasy, an alternative to the cruelties and complexities of the real world. This does not mean sports are somehow immune to the realities of politics and civics and ethics, far from it; I'd argue much of my sportswriting career is dedicated to understanding how sports reflect society, how it's impossible to separate them from the larger society in which they inhabit. But I do believe you can chew gum and walk at the same time. You can be aware of, and even militant about, keeping the world of sports honest and accountable, and understanding how many will try to use it to promote their own agendas and propaganda … and you can also enjoy the pure bliss of a game at the same time. I would argue it's even vital to be able to do both of those things. You can't really understand one without the other. They're the same job.
But I will not be thinking about a job on Friday night. My father, while waiting out in Winterville, Georgia, for sports to start again, has built a garage, with a lean-to off the side, that has a television on the wall, a cooling fan above and a fire pit surrounded by stadium seating, including actual seats from the old Busch Stadium. There are cup holders, and a beer fridge, and a bug zapper. Bless his heart, he has even mowed an Arch into the lawn, like they do in the outfield at Busch, which is the corniest Cardinals fan thing you could come up with and something I could not possibly love more.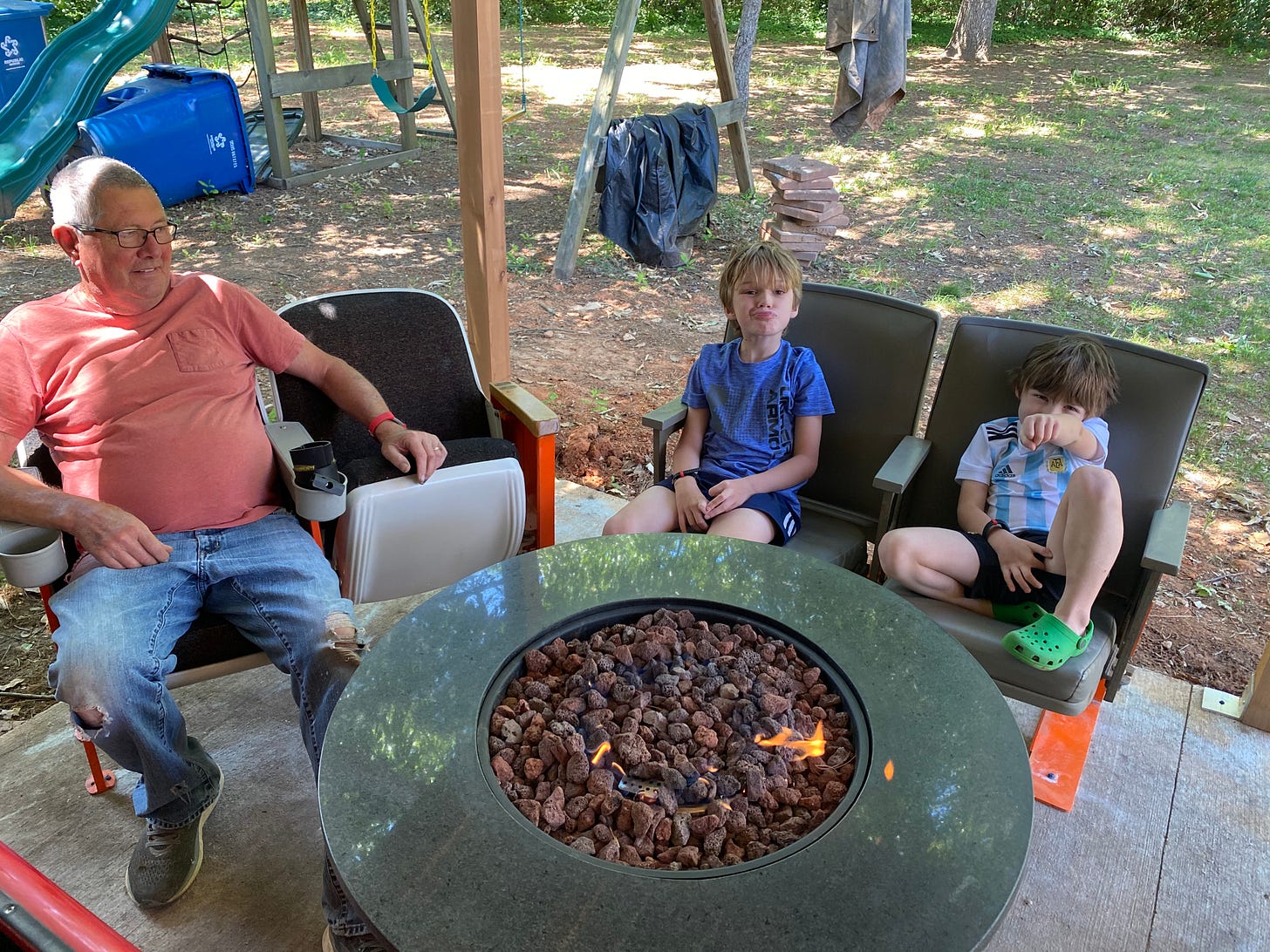 And when the Cardinals play on Friday night, and then watching with the boys on Saturday afternoon, I am not going to be thinking about what my children have been missing out on, or how my parents aren't getting the retirement I wanted for them, or what horrors are facing all of us on a daily basis. There is plenty of time for all that: All those things will be waiting for me when the game is over. On Friday night and Saturday afternoon, and as often as I can afterward, for as long as they can pull this off, I am going to watch a St. Louis Cardinals game with the people who are closest to me. Hopefully the Cardinals will win. But the game will be as it as always been, since I was eight and my dad was eight and his dad was eight: An experience we hang on to forever. Remember watching the Cardinals out at Baba's house during the pandemic? It will not make up for school being postponed, or not being able to make our yearly trip to Busch, or no one getting to see their friends. It will not make all the troubles in the world go away. It will not allow anyone to become less vigilant and less focused on all the work that has to be done.
But it will be something. It is becoming increasingly clear things are never going to go back to "normal," at least not as we understood it before. But I believe it's OK, even imperative, to have some stability and comfort wherever you can find it. Perhaps this is found for some in a great book, or binging a television series, or video games, or a great meal. I have always found it in baseball. To have it coming back is a blast of cool air in the middle of my brain. I had not realized how lost I was without it, and I am truly grateful for it. And I am even more grateful for the people I get to share it with.
I know it can go away now. I will not take it for granted again. I will try to savor every moment. Even if this all turns out poorly, I will feel fortunate that I, and those I love, got to have this. I'll absorb it all. Even if this all ends up with us all getting drilled in the groin.
R.I.P. JOHN LEWIS
"No one, over a long lifetime, gets everything right," wrote The New Yorker's David Remnick last year. "John Lewis has come as close as anyone." Rest in peace to an absolute mountain of a human being. You can watch John Lewis: Good Trouble on Amazon Prime right now: Highly recommended.
Here is a numerical breakdown of all the things I wrote this week, in order of what I believe to be their quality.
PODCASTS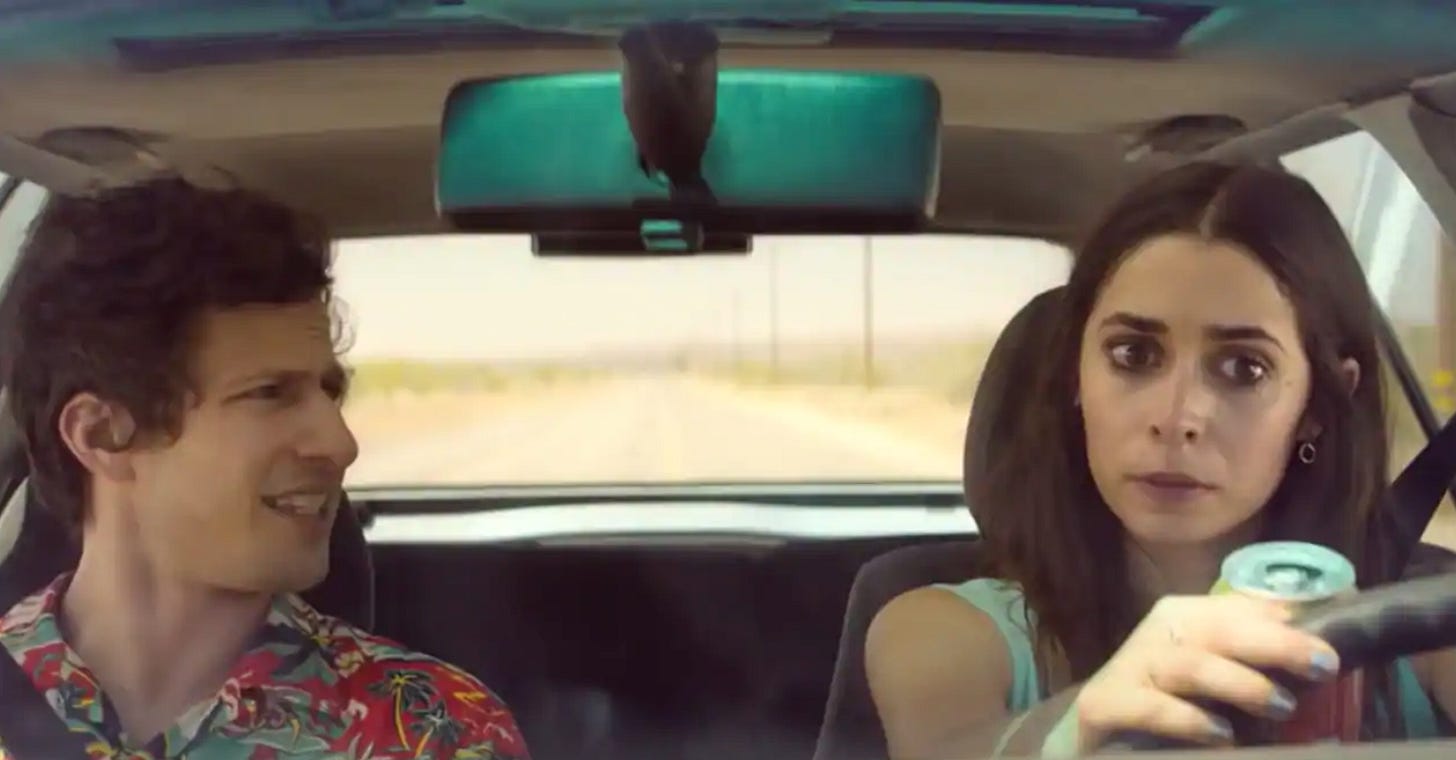 Grierson & Leitch, three really good movies, on the same weekend: The Old Guard, Palm Springs and Greyhound. It's sort of stunning how good Palm Springs is.
Waitin' Since Last Saturday, is there going to be college football this year? We try to venture guesses.
LONG STORY YOU SHOULD READ THIS MORNING … OF THE WEEK
"How Americans Became Part of the Trump Family," Megan Garber, The Atlantic. There have been many terrific reviews of the new Mary Trump book, but this one might be my favorite. Incredible graph:
The Breaking Mood, as a genre of journalism, exists for roughly the same reason that the president's decision to don a face mask, this weekend, was breaking news: Trump's feelings have become facts of American political life, and matters of life and death. As the madman theory turns inward, reading Trump's emotions becomes, for an addled public, a form of self-protection—and an act of last resort. We know what happens when he feels threatened. We know what comes of his rage. The neurons fire, their impulses unchecked, and the children are caged and the general is killed and the peaceful protesters are tear-gassed in the streets. The path from one event to another, presidential power being what it is, is alarmingly short. His mood becomes others' misfortune, all too easily. Americans—and those watching the proceedings from abroad—live in the chaos that results.
Also, this interview with genius Democratic pollster David Shor taught me a lot about electoral politics (and is legitimately sobering about the upcoming election).
THIS WEEK'S PIECE OF HANDY ADVICE
ONGOING LETTER-WRITING PROJECT!
Ask anyone: I respond to all of them!
Will Leitch
P.O. Box 48
Athens GA 30603
CURRENTLY LISTENING TO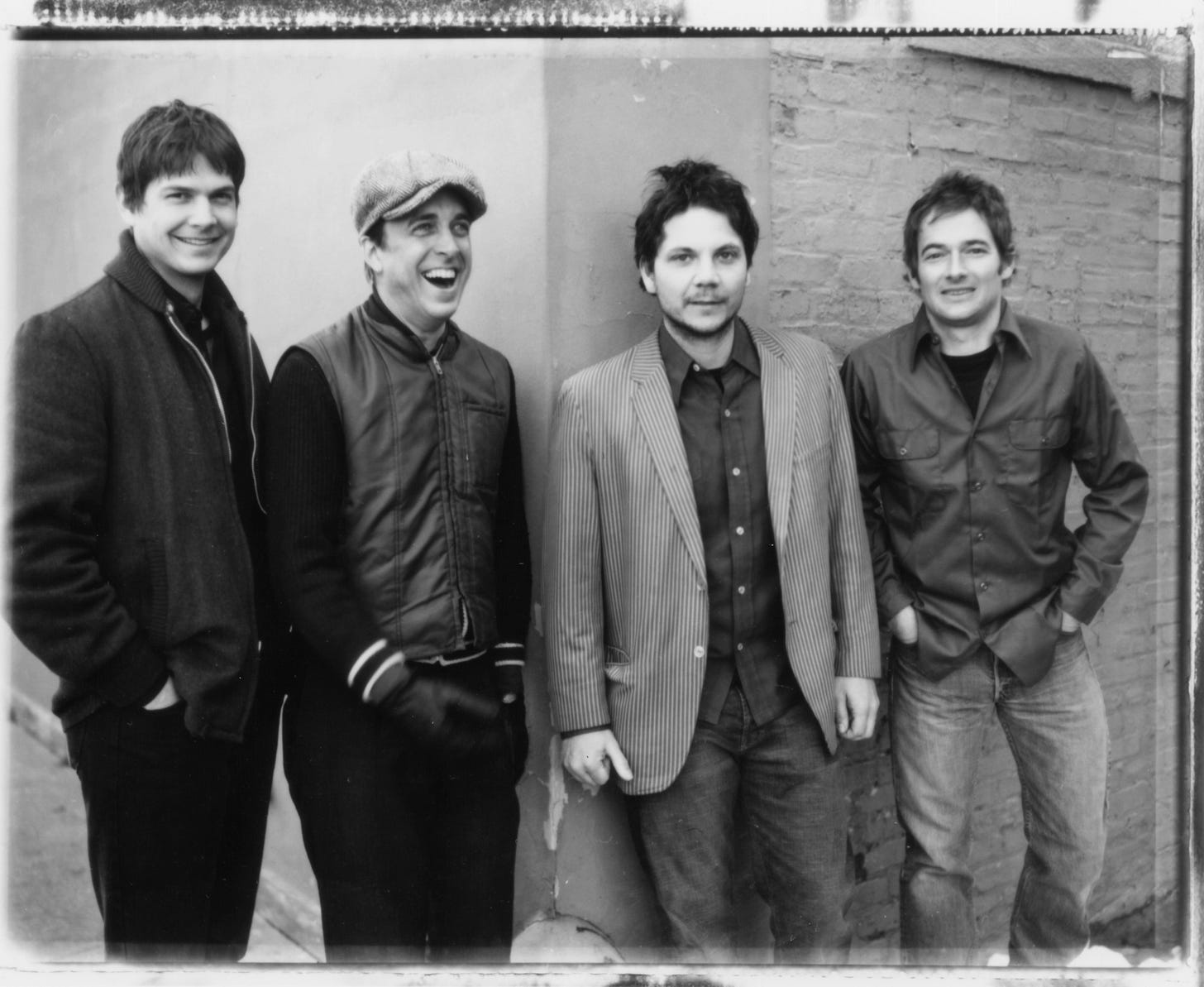 "Listening to the Wind That Blows," Wilco and Billy Bragg. I always forget to listen to the third edition of these. This is actually a pretty great song!
When we all came back from the lake last week, my father had built … a freaking climbing wall for the boys.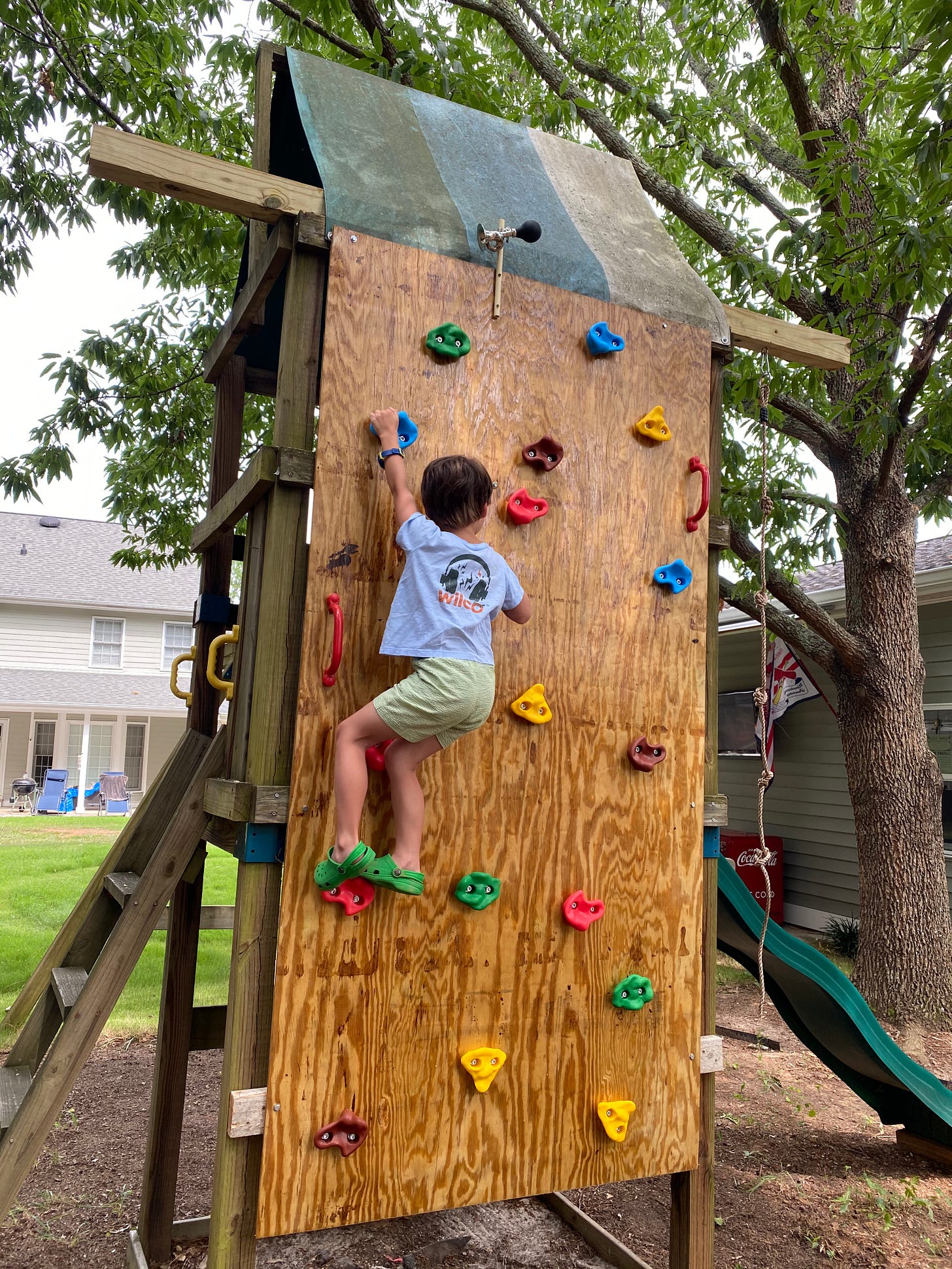 I love the little horn they get to toot when they reach the top.
Have a great weekend, all. It's going to be OK.
Best,
Will